21 Laptops that Feature a MUX Switch [Top Picks]
Looking for laptops with MUX switch? You got 'em!
I'll list down all the MUX switch laptops that I've come across best in their class.
Most of these laptops will feature the latest specs but some may not so either ignore them or see if you can save some money and enjoy the MUX switch feature for now and upgrade shortly after a few more months to a higher spec laptop.
Let's take a look at these best laptops that have a MUX switch.
21 MUX Switch Laptops in 2022
This list will be kept up to date so feel free to bookmark it to refer back to it again
1.

Alienware M15 R5
Alienware M15 R5 with Ryzen 7 5800H + RTX 3070 has the MUX switch feature but you'll get it once you update your BIOS.
2.

Dell G15 5515
Dell G15 5515 also gives you the MUX switch feature but it also will be able once you update the BIOS to the latest version.
3.

Alienware M15 R6
A few of Alienware's rivals seem more dynamic than the M15 R6.

There are other laptops that use a more power-hungry version of the RTX 3080 graphics card that can drain more juice when the fans spin more quickly.

It can't compete with Razer and Lenovo because it lacks some features.
Neither the screen nor the touchpad is particularly impressive and the design of the laptop resides somewhere in the middle between a classic "gamer" style laptop and something plainer and more serious.

I don't think there is anything wrong with that it's just our take on how the style is used.
It will tear through all of today's games though and it has a great keyboard which shouldn't be underestimated.

This keyboard is brilliant for both work and gaming but the underlying plate could be a little firmer.
4.

ASUS Zephyrus Duo 15
A capable gaming laptop the Zephyrus Duo 15 is overall a good choice.

Unfortunately its 60Hz screen limits its performance.

However most people will be buying this laptop for games.

Asus may be marketing this laptop to content creators but it's a Zephyrus and this is a gaming laptop.
Models like the Blade Pro 17 deliver comparable frame rates for several hundred dollars less than the Blade Pro 17 so what you're really paying for is a second screen and more storage.
Gaming is enhanced by the ScreenPad.

I don't see myself using it very often until titles that are optimized for it arrive.

It seems like a very impressive piece of hardware very capable of playing most games.
5.

ASUS Zephyrus S17
ROG Zephyrus S17 is an absolute beast!
As a gaming laptop it has one of the best performance ratios I've seen yet a display that punches above its weight and a keyboard with tilt that is extremely comfortable.


An otherwise excellent gaming device has only two minor complaints: battery life and bloatware.

If you can afford it this is an excellent choice.
6.

Eluktronics MAX-17
Eluktronics makes an incredible laptop in the Max-17.

I have never been happier with a computer and believe it was worth every penny.

I highly recommend considering the Max-17 due to its aesthetics (size for thermals/vibrant 244Hz screen/physical looks) portability (lightweight battery life on the go thin size) and performance (gaming general tasks).

But it's all the additional little things such as having a TB3 supreme cooling options modes for extra wattage to CPU/GPU for higher performance and Eluktronics top-of-the-line support that I believe you can't go wrong.

Please feel free to ask me any questions.

A Happy User
7.

Eluktronics Prometheus XVII
At this price I expected a good gaming laptop and I wasn't disappointed! The Prometheus (with the i7 and the 3070) is VERY fast out of the box and can get even faster with jut a few minor tweaks for the adventurous gamer.

A Happy User
8.

Lenovo Legion 5 (Ryzen 7 5800H + RTX 3060)
Overall this laptop I would say isn't the best deal at the current price but you are getting every value of your dollar I will tell you that.

A Happy User
9.

Lenovo Legion 5 (Ryzen 7 5800H + RTX 6600M)
Comes with 8GB Single Rank in single channel.

Can be upgraded to dual channel.
60Wh battery meaning there's space for an HDD or SATA SSD
RBG keyboard seems to have a few frozen LEDs (e.g.

when the backlight is set to all white you can still see some green and purple on the lower keys) unsure if this is just my model
Screen is an anti-glare (matte like surface) looks good
10.

Lenovo Legion 5 (Ryzen 7 4800H + GTX 1660 Ti)
Good ergonomic keyboard + extremely fast + not much installed junk + less heat vs my 4 years old one.

I'm using this Lenovo to use the Firefox and Chrome + MS office+ movies+ pictures but not thing else.

Real User's Views
11.

Lenovo Legion 5i
Computer performs wonderfully fast great for gaming absolutely no complaints this far absolutely great bargain for the money I only use it for gaming so I don't really have a way to really know anything else but I think it was completely worth it!

A Happy User
12.

Lenovo Legion 5 Pro
The 16″ 500nit QHD screen is amazing.

By far the best screen I've ever had.

The keyboard doesn't bother me at all I haven't had any issues.

The trackpad is easy to use and the build quality is solid.

My only complaint is the design.

The "Y" on the back it's pretty cheesy.

I really wish this looked like the legion 7.

Other than looks this is a great laptop.

Also the thermals are amazing.

The sound isn't great but everything else makes up for it.

Definitely a great laptop get this if you can.

A Real User Says
13.

Lenovo Legion 7
This AMD version of the Legion 7 is significantly more economical on battery and significantly more efficient than the Intel model but it lacks some Intel-exclusive features such as very fast gen4 storage and Thunderbolt 4 which is not available on this current Intel model.


Although you can't go wrong with either the AMD Legion 7 has arguably more balanced performance unless you need that fast CPU performance.
14.

Lenovo Legion 7i
As I've entered a new chapter in my engineering career causing me to travel a lot an be away from home.

I sold my desktop and bought this product so that I could carry my games (my way of relaxing when I have time) with me.



I haven't had any regrets.

It is an amazing machine and brushes off all games I've thrown at it with ease.

Definitely the best value for money gaming laptop out there.

I would also recommend the Lenovo Legion Armored II laptop backpack to keep your machine safe when travelling.

User of a Slightly Diff Spec Laptop
15.

MSI GE66 10SGS
This computer is all it's hyped up to be.

The construction is solid.

The keyboard is easily customizable.

The image quality is so crisp and clear.

Programs open quickly and perform quickly as well.

I'm a light gamer but my COD MW performance has gotten better.

The fans are really quiet and the keyboard stays cool.



The speakers are as good as you'd expect from a laptop.

It's not light but not too heavy either.

I always have it plugged in so I haven't had a chance to test battery life.

This is by far the best laptop I've ever had.



I upgraded from a 15″ MSI with an NVidia GTX 1060 graphics card and the difference is instantly noticable.

I highly recommend this laptop.



If you're an advanced gamer and you measure for hz mhz and other advanced performance factors I can't speak to those things.

But if you want a fast quality laptop with great looking screen images this is an awesome choice.

Real User's Views
16.

MSI GE76 10UH
This laptop is blazingly fast in all ways.

And the I/O is great has a thunderbolt 4 connection to connect a thunderbolt 4 hub and be able to use external gpus extend the dedicated graphics card to 2 full 4K monitors or 1 8k and hook up a 10gig network card.



Wish it had 64 not 32 gigs of RAM but that's a simple upgrade.

The MSI control center is a little odd and is confusing to use to overclock anything but so far nothing needs to be.

Definitely get desktop quality for this laptop.



Oh and the steel series color bar along the bottom and the customizable color lighted keyboard makes for quite the show when not in use too.



Battery is weak but based on the gear inside it makes sense needs power supply for full usage of the CPU and GPU but 17-inch laptops are generally too big to carry around on the go anyway.



It's not too heavy at all just needs to bring its bulky power supply to use it fully.

I'm very picky when it comes to computers this was my 3rd in a month while shopping and returning and I can't believe how much better it is than the others I had tested just weeks or days before.



There's enough power to make the main display 4K but it's got a 360hz refresh rate at 1080p.

Hard to beat.

Overall A only downside is lack of ability to really use it without the bulky power supply.

Real User Says
17.

MSI GE76 11UH
Works beautifully.

It plays Ark maxed and handles my encodes well.

Fans might be a little loud maxed out for some but I don't mind them.

It's worth the money.

User of a Slightly Diff Spec Laptop
18.

MSI GP76 10UG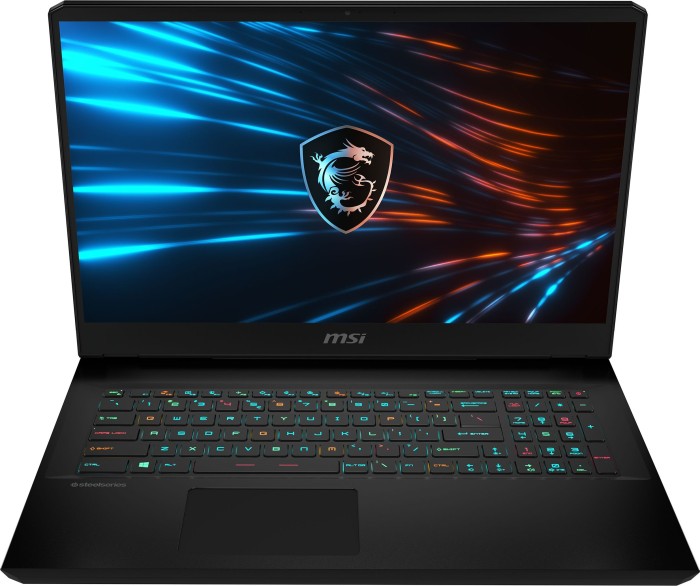 Gaming laptops like the MSI GP76 Leopard 10UG are classics.

The 17-inch 144 Hz screen makes it larger than 15-inch devices in terms of thickness but it is not hugely different from devices with 15-inch displays.


One of the highlights of the line is the Nvidia GeForce RTX 3070 that runs at a maximum power of 140 watts.

A few more frames per second can be achieved in games when compared to throttled variants.
19.

MSI GS76 Stealth
"I'm coming from a GE66 with a 2070 Super.

Depending on the game I get about the same fps or sometimes 10 fps less.

I would say performance is about 5-10% behind.
I haven't had any overheating issues but it does get hot this isn't helped by the fact that the further back you open the screen the more you will be blocking the air vents at the back.
My other issue is that it has a lot of sharp edges there are two behind the screen and two in the front where the palm rest is.

This can get really uncomfortable and I never thought I would have an issue like this with a laptop.
Performance is good I played Forza Horizon 5 at 1440p 75 fps and battlefield 2042 at 80fps with DLSS on.

I really like the fact that this can absolutely pass as a business laptop.

It is very stealthy looking and I wouldn't feel embarrassed to take it out at a work presentation.

The chassis is solid but it is a fingerprint magnet.
Overall I'm really liking it but MSI please take a look into the issue of the sharp edge for future models."
20.

Razer Blade 15 Advanced
"Overall great gaming laptop.

Bought it as a mobile workstation with gaming potential (in that order).


So far is blasting fast for everyday use and every game I've tried runs +30 FPS on the best settings.

I haven't been able to reach 300 FPS in any game so the 300Hz display is a bit of an overkill.
The built quality is amazing a bit sharp on the edges (I was used to a MacBook) and feels sturdy."
21.

Eluktronics Mech-15 G3
The laptop is great.

fast slim and well built.

The only thing I would have liked are: – extra USB C port.

The laptop has only one – No laptop charge via USB C port.

This is a hard-felt miss and I hope the laptop had that capability.

I understand the laptop has high spec but having the USB C charge would have allowed for increased portability for travel and professional use.

Real User's Views
Resource Links